Donji Kamenjak is the name of the state-protected peninsula and cape Kamenjak of the same name, which is near the village of Premantura. It acquired its special status due to its rich flora and fauna, as well as landscape diversity. There are more than 600 species of plants, most of which are medicinal and aromatic herbs that are unique to this area. And most importantly – here you can find up to 30 species of orchids! Some of which grow only in these places. For example, the anthemis tomentosa orchid.

In order to preserve the variety of herbs and flowers on the peninsula, pastures are deliberately preserved, where Istrian cows (Boskarin) and sheep graze. If this is not done, then the lawns eventually become overgrown with trees, most often the Aleppo pine. By the way, have you ever seen a road sign "Beware of sheep!" (not cows, not deer, namely sheep). Not? And here he is. Filmed in a short video at the end of the article.
The coast is rocky, stone, with numerous bays. Lots of scenic swimming spots.
Tourist infrastructure – bars, cafes, children's entertainment are given by the authorities in concession. Prices for "just a bite to eat" will be slightly higher than, for example, in Premantura, but the cuisine itself is so subpar.
At the beginning of the route along Kamenjak, near the cafe, there is an ATM at the farm.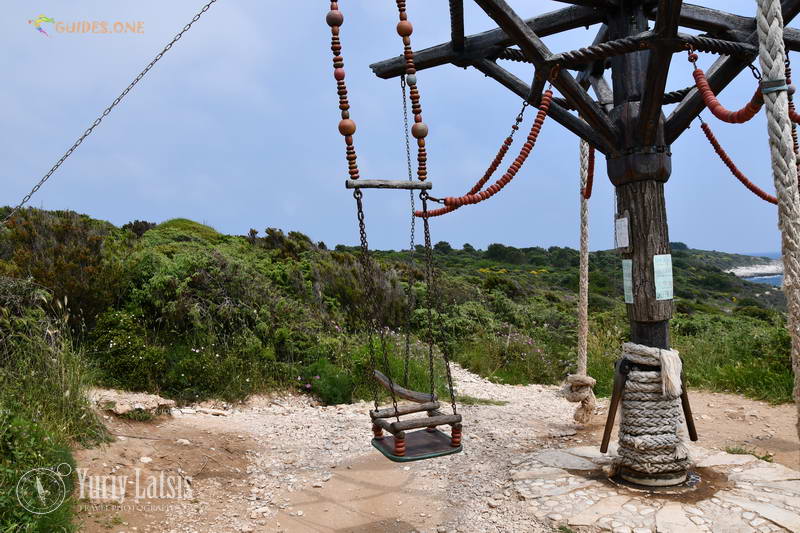 The distance in a straight line from Premantura to the extreme point where the road ends at Cape Kamenjak is about an hour's walk. Along the winding coast with stone paths, the route is longer, and therefore it will take more time.
It is advisable to go hiking in the morning, before the heat. Take sandwiches and water. Around the forest and rocks, so do not rely on bars too much. Moreover, even those that are sometimes found here may still not work at the beginning of June. And if any one is open, for example, the one in the photo (in itself it is quite curious – an impromptu haven for modern "savages"), long queues line up for food.
In any case, you will have to stomp several kilometers to the nearest point with food.
Porer lighthouse
From the cape you can see the Porer lighthouse. It is located on a flat rock. Its task is to warn sailors about dangerous reefs.
The lighthouse in its present form was built in 1846 from stone. In place of the burnt wooden version. For centuries, only Premanturians worked on it as caretakers – the lighthouse became a part of their history.

Today, the lighthouse has two four-bed apartments for tourists. The cost per night per room is from 72€ in low season and up to 136€ in high season. But with a transfer to the island is not so easy. It is possible by boat and not in any weather. Return transfer – for an additional fee of 100€. Getting to a tiny island, living there and returning is a separate task for logistics, depending on the weather. Products must be taken with you. Even if you can agree, they will deliver them to you with a fair wind for an additional fee. If the wind is strong, you can be left without food.
Price of entrance to Kamenjak
Entry is free for pedestrians and cyclists.
Entry by car for 1 day – 80 kunas €, 1,053 RUB), three-day ticket – 180 kn ( 949 UAH , 23.89 €, 2,370 RUB), 12 day ticket – 720 HRK ( 3,798 UAH, 95.56 €, 9,478 RUB).
Entrance by bus – 500 kunas ( 2,637 UAH, 66.36 €, 6,582 RUB).
Restrictions and Permissions
Official rules prescribe to leave cars in specially designated places. In other words, just leaving the car on the lawn is prohibited, so use the parking lots.
The reserve has special places for free public barbecues, but they don't catch your eye right away, so look better. Perhaps they are located near car parks next to open areas.
You can't camp here overnight. There are campsites in Premantura, next to the nature reserve, and further: in Pomer, Banjole, Medulin.
Fishing is allowed. Where better to go – check with the locals.
Map of Kamenjak (Premantura)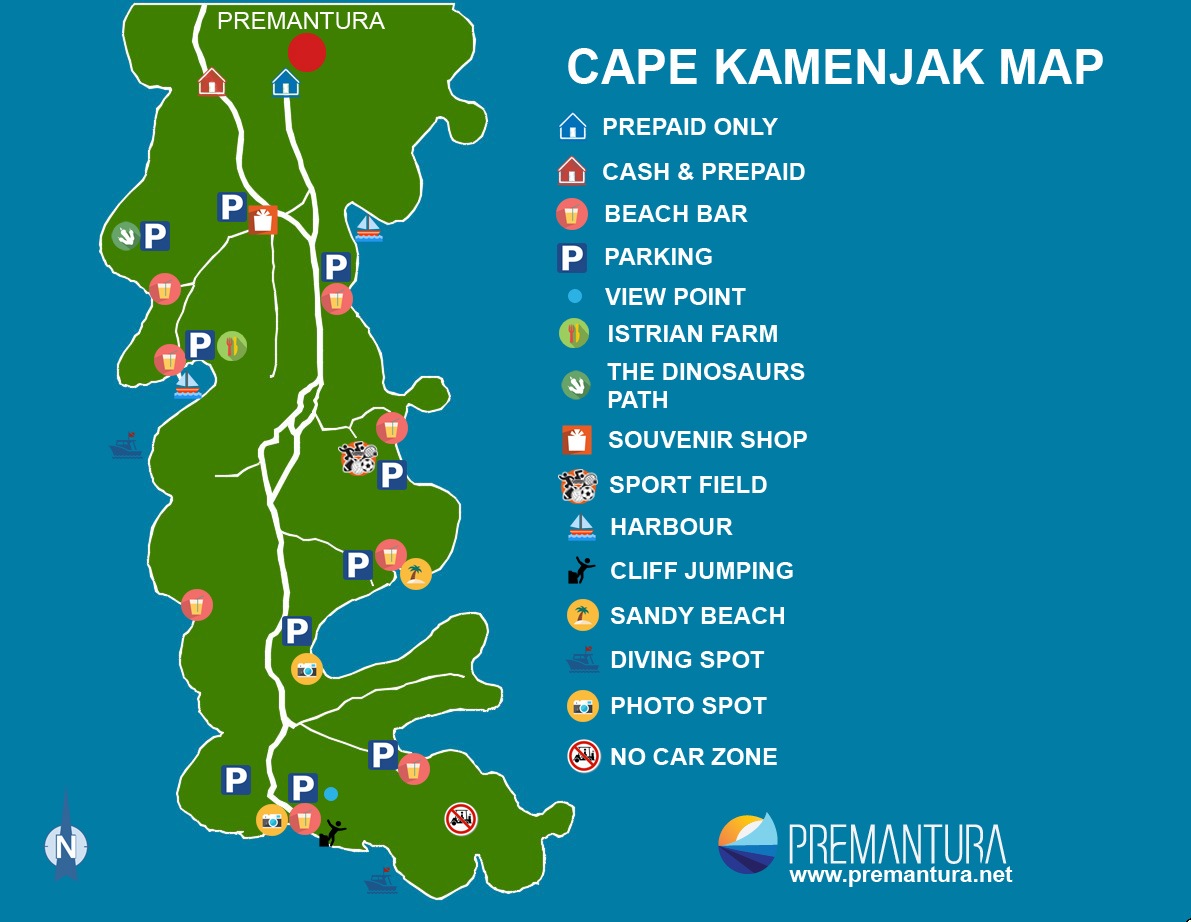 Some more photos of Kamenjak – Premantura
Kamenyak – video
Note
For admirers of Czech comedy cinema, just in case, I inform you that the film of the same name "Kamenjak" has nothing to do with the Croatian national park. The film takes place in a certain Czech provincial town "Kameňák".
Useful links:
1. Official website of the Kamenjak Nature Reserve, in Croatian and English.
It marked several more interesting natural places in the vicinity of Premantura.
2. Description of the village of Premantura on Guides.one