Mobile internet in Croatia
When choosing a mobile connection in Croatia, the number of available options depends on whether you have a local tax number (OIB)  or not. With OIB, it is possible to conclude a contract, and the cost of communication will be cheaper. For those who are in Croatia "in transit" travel packages are suitable. Who decided to stay longer – read the chapter about contract with the operator A1.
"Tourist" packages
Operator T-HR (hrvatskitelekom),

Travel package Visiting Croatia – 85 kunas (11.28 €). Includes an unlimited weekly plan, each weekly renewal – 60 kn. (7.96 €) If there are 60 kunas on the subscriber's account, the operator will write them off on their own. Notifies you by SMS the day before.
(In April 2023, the conditions of the package have been improved – it is now valid for 10 days, and the same amount is also replenished every 10 days.)
The operator also offers discounts for a one-time replenishment when using 1 or 2 months.
"For one month of unlimited surfing, we offer you, in addition to purchasing a starter package that includes one week of unlimited surfing, to top up your account with 180 kn. This amount is enough to cover three unlimited weekly add-ons (3 Flat Surf add-ons at a price of 60 kn each).
During two months of unlimited surfing, we offer you, in addition to buying a starter package that includes one week of unlimited surfing, to top up your account with 420 HRK (55.73 €). This amount is enough to pay for seven unlimited weekly add-ons (7 Flat Surf add-ons for 60 HRK each).
Once your account has been funded, you have nothing to worry about. The Flat Surf add-on will re-activate every 7 days as long as there are sufficient funds."
Direct link to the Visiting Croatia package
Telematch  (former Tele2)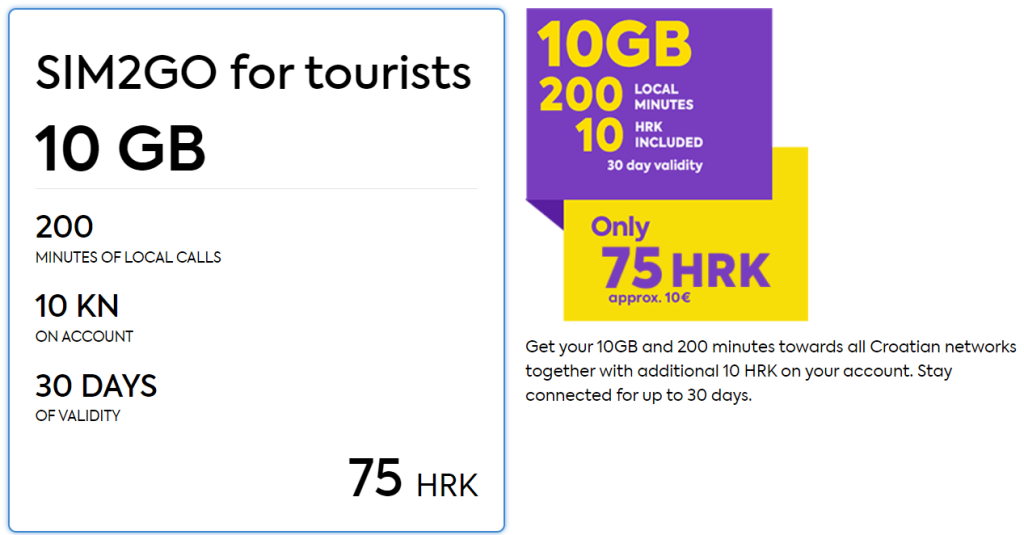 Sim2Go for tourists package – cost 75 kunas (9.95 €), 10GB internet traffic included, 200 minutes for local calls, and 10 kunas credited to the account. It is possible to switch to other packages, but only in one direction.
You can activate one of the packages listed below by sending an SMS with a keyword to 13888.
– 0.5 GB, 200 minutes and 200 SMS – keyword: S, price: 39 kn
– 2 GB, 500 minutes and 500 SMS – keyword: M, price: 59 kn
– 7 GB, 1000 minutes and 1000 SMS – keyword: L, price: 89 kn
If you activate the above package, you will not be able to activate the 10 GB and 200 minutes package a second time.
(In April 2023, a travel package, which did not exist a year ago, is offered. It comes with 10 days unlimited internet, similar to the previous operator. At a price of 10,62 EUR (80,00 KN).)
Sim2Go for tourists direct link.
Operator A1 Croatia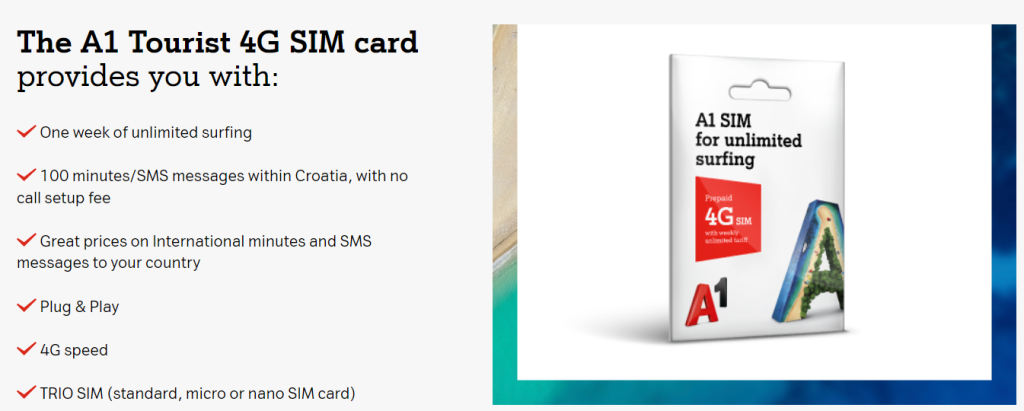 The A1 Tourist package costs 80 HRK (11.28 €) – (75 HRK weekly fee, 5 HRK SIM card). You will get "unlimited" traffic limited to 20GB at 4G speed per week. If the data is exceeded, the speed is truncated to 64 kb/s.
The package includes 100 minutes of calls within Croatia and text messages.
(In April 2023, this package was also offered for 10 days like the other operators. Price 10,00 € (75,35 kn)
Instead of weekly billing, the A1 Tourist package can be switched to daily billing. To do this, send a free SMS with the word DAILY to 13220. The daily package will cost 15 kn (2 euros) for 24 hours of unlimited surfing and will automatically renew, which can also be turned off by sending an SMS with the keyword D to 13220.
Direct link to A1 Tourist
For long-term use, a tourist SIM card will most likely not be profitable. Most often, compatriots are looking for tariff packages with unlimited internet. Popular options include:
Prepaid and contract unlimited plans
A1 unlimited internet, tariff "Perfect**" (Savrshena) – cost without OIB – 260 kunas, where 20 kunas – your purchase of a mobile number, and 240 kunas (31.84 €)- monthly payment for a service package. If you have a temporary protection certificate and OIB, then you can conclude a contract. The cost will be already 189 kunas (25.08 €).
As we know, there are no really unlimited mobile tariffs. A1 Internet tariff restrictions are hidden under the footnote in small print:
*After 100 GB of Internet traffic is used up, the speed drops to 2 Mbps, and to continue using the additional 50 GB at speeds up to 400 Mbps, you need to send an SMS to 13125 with the keyword SURFAJ.
In fact, this is a good offer in terms of the amount of included Internet traffic at high 5G speeds. Given the large coverage in Croatia, stable network quality, A1 unlimited is a great option. For reference: Mobile operator A1 Hrvatska is part of the Austrian group A1 Telekom Austria Group.
Direct link to internet unlimited A1 Savršena
A1 tariff plan "Boundless" (Bezbrižna) is more expensive  (299 kunas\month 39.67 €) due to the inclusion of prepaid roaming 30 minutes and 250Mb internet for the EU, EAK
A1 tariff plan "Dobra+" offers only 20 GB of internet traffic for 149 kunas (19.77 €).
For temporarily displaced persons from Ukraine, the Croatian Red Cross issues an A1 operator start package – free of charge. It already includes a small number of minutes and internet for a month. After receiving the OIB, you can transfer this package to the contract.
(As of April 2023, prices are almost unchanged)
Services are managed through the My A1 mobile application.
Direct links to the application AppStore   PlayMarket
Where to buy a SIM card in Croatia?
at Tisak newsstands
grocery stores, mini markets at the checkout
at gas stations
in communication stores
The registration of the contract takes place in the communication salon. You need a passport, tax number (OIB), up to an hour.
The conditions and tariffs of operators are given as of the date of writing the article 18.04.2022
Updated terms and prices 12.04.2023