The town of Bale, located on the Istra peninsula in Croatia, has a rich history that dates back several centuries. In ancient times, this area was on the route of a trade route, for the protection of which a fortified settlement called Castrum Vallis was founded in 965 AD between the port of Pula and Istria. It has been under the rule of various states and empires at different times, including ancient Rome, Venice, Austria and Italy. This has been reflected in the architecture and culture of the township, which combine different styles and influences. After World War II, Yugoslavia took away part of the historical Croatian territories on the Istra peninsula, along with Valle, which is the name of the town in Italian.
What to see in Bale Croatia
Soardo-Bembo Castle
Nowadays, Bale has preserved its medieval layout, where the remains of defence walls, towers and gates can be seen. The main architectural structure is the Soardo Bembo Castle, which was built in the XIV-XV centuries and served as a residence of local nobles. It owes its name to the founding family of Soardo, and later it passed to the Bembo family.
The Castel Ulica is a pedestrian alley at the foot of the Soardo Bembo Palace, along which there are various pleasant establishments where you can drink local wine and have a bite to eat in the original surroundings.
St Julian's Church
The town is also famous for its Church of St Julian, which was built in 1880 on the site of an ancient early Christian basilica. The church contains valuable works of art such as a stone sarcophagus with an 8th century Early Romanesque relief, a wooden Romanesque crucifix, a Renaissance wooden polyptych, a Renaissance relief of the Virgin Mary, liturgical vestments and accessories from the 15th -18th centuries and reliefs of the 15th century marble altar, while the crypt contains a collection of wickerwork and early Romanesque sculptures. The large painting The Visitation is attributed to the famous Baroque painter Matei Ponzoni (Ponchun). In front of the church is a belfry with Romanesque features, similar to those of the early Middle Ages. Church of St Ilie (Concetta), 11th century. The churches of St. Spiritus (Folk Gothic, 15th century) and St. Anthony have remnants of late Gothic frescoes.
Olive and wine culture
In Bale Valle you can also visit the Olive Oil Museum, which is located in an old mill building and presents an interesting exposition about the production of this product. Visitors to the town can also enjoy the local cuisine, with fresh fish and seafood specialities. In March 2023, the Teranino festival was held for the first time, where the makers of Teranino liqueur and rakia showcased their products. The region of Istra is renowned for its winemaking. That is why there are wineries and cellars in every town and village. For example, the town boasts the Winery San Tommaso, located in the village of Golas and Meneghetti Wine also near Bale Istria.
Traditional local produce in this small town: extra virgin olive oil, wine Malvazija, sheep cheese and ricotta, cosmetic product made with olives and lavanda.
Things to do in Bale Croatia
Festivals and events in Bale
The town regularly hosts cultural, wine and music festivals. Here are some of them:
Bale Valle Armonica – International Music Festival, which takes place every year
Castrum Vallis – a festival that features concerts and other musical events.
Last Minute Open Jazz Festival – Jazz music festival
Bale's Night – a nighttime event featuring concerts and other entertainment.
Bale-Valle Outdoor Festival – a festival featuring sports, cultural and educational events
An up-to-date poster of events in Bale can be found on the official website of the municipality.
The Parking Bale in front of the entrance to the old town are free of charge.
Entertainment
The Palud Bird Sanctuary, located just 4 kilometres from the city, is a unique place to observe local species of flora and fauna. The park is home to various species of birds and you can also see rare plants and flowers. There is a beautiful wild beach surrounded by cliffs. It is the only ornithological reserve in Istria.
The Histria Aromatica Park in Bale is a place where you can immerse yourself in a world of aromas and medicinal plants. Located on the slopes of a hill, the park offers visitors a guided tour of its grounds. Here you can learn about the different species of plants, their history and their use in medicine and cookery. But you need to know when lavender and other plants are in bloom. It is interesting to come during the blooming season.
In Bale Valle you can also visit the local market where fresh vegetables, fruits, cheeses and other local products are sold. The market is open every Saturday morning.
The Mon Perin camping resort has a Paleo park with three pools, jacuzzi, water slide, full-size dinosaur replicas, indoor playground, massage and other facilities.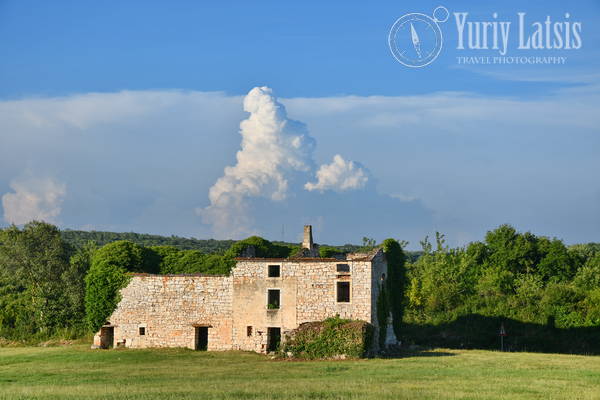 Balle Valle Beaches
There are several beaches near the town where you can sunbathe and swim in the sea. The most popular are the beaches of San Polo, 10 kilometres from the town, and Colone, 5 kilometres away.  San Polo beach is pebbly and rocky and is about 4 kilometres long. Colone beach is also about 5 kilometres long and consists of pebble and rocky sections. Both beaches have well-developed infrastructure, including car parking, beach cafes and the possibility of renting sun loungers and umbrellas. There are campsites located next to them.
San Polo Bale campsite is 6 hectares in size. It has two sanitary buildings with toilets, showers, hot water and washing-up facilities. There is a minimarket, a restaurant, fast food and a bar. Mobile homes are available for hire. The Colone Bale camp also covers an area of 6 hectares and offers a similar service.
Bale hotels and apartments
The town, which is located 8 km from the coast, has to attract tourists with higher accommodation services, culinary delights and cultural programmes. Bale hotels and apartments are just designed for demanding, pampered tourists from United Kingdom, Italy, Switzerland, Germany.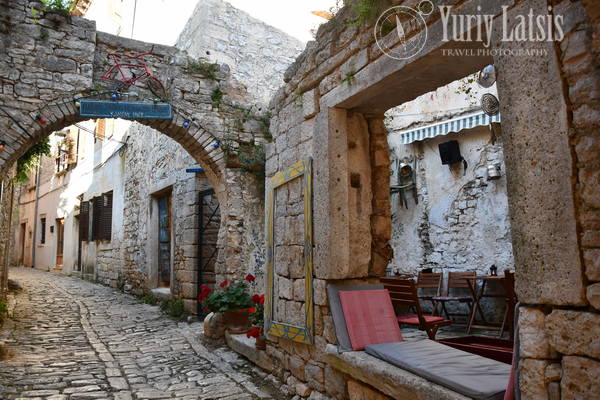 In the Tripadvisor rating these hotels have high scores:
Holiday Home Bale – Valle.
Rooms Bale – Valle
Hotel La Grisa
Kamene price apartments
Farmhouse Cubani
Guesthouse Bale
Meneghetti Wine Hotel And Winery is an upscale 4-star property set among vineyards and olive groves, a 15-minute drive from the town.
Camping Mon Perin Bale Croatia is a glamping resort. That is, not a traditional modest camping site, but a luxury complex on an area of 140,000 m2 surrounded by nature with luxury glamping villas with private pools, hot tubs and other amenities. There is also a Wellness & Spa centre and an aqua park.
There are many holiday homes for rent in this small town of Bale.
Best restaurants Bale – Valle
Restaurant la Grisa, Borghetto, Restaurant Meneghetti, Mol Picio, Pizzeria Toni, Konoba Bembo
Distance to Bale, Croatia
Distance from Trieste to Bale – 100 km
Distance from Venice to Bale – 260 km
Distance from Bale to Pula airport 34 km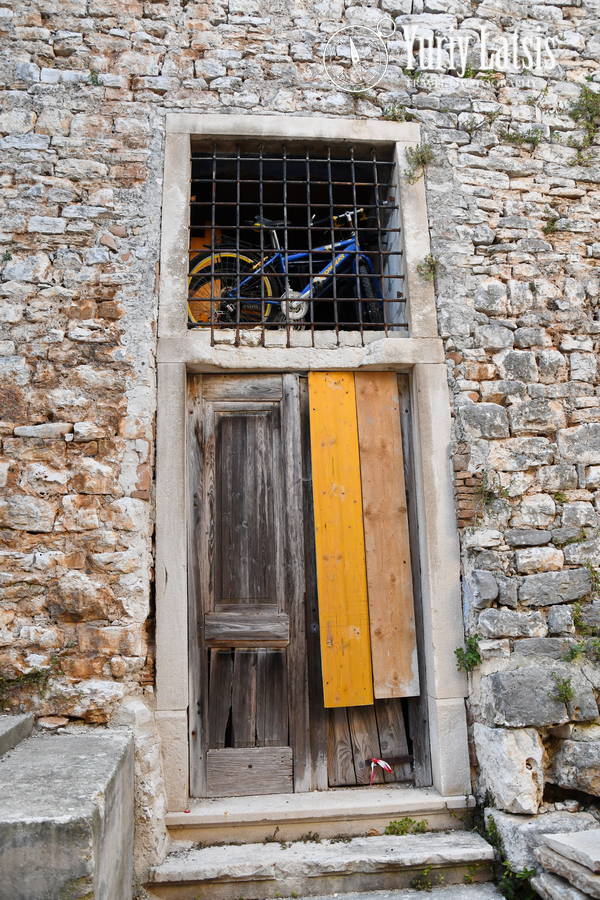 Other articles about Istria Croatia
Brijuni National Park