Among the olive groves, cypresses and coniferous parks, bordered on different sides by the sea, between Medulin and Pula lies the cozy village of Banjole. About 1000 people live in it, but even in the summer season this paradise does not seem crowded with tourists. Fortunately, there are only two hotels in Banjole, in the center – Resort De Mar, and on the peninsula – Centinera Resort. A few campsites are scattered deep in the coniferous forests that cover the peninsula. Therefore, there are fewer tourists in the village than in other places. Of course, private apartments are rented everywhere in the summer. But their number does not significantly affect the measured rhythm of the village. Unlike neighboring Medulin, with scurrying crowds of beachgoers, peace reigns in Banjole, and the beaches are never crowded. The village has its own calm, measured rhythm of life, weakly amenable to seasonal fluctuations, unlike towns like Pula or Rovinj, where time stops with the departure of tourists.
Distances from Banjole
Pula – 8 km
Medulin – 8 km
Premantura – 6 km
Rovinj – 47 km
Trieste – 126 km (1.5 hour drive)
Kyiv – 1750 km, Hungary-Croatia
(Kyiv-Lviv-Mukacheve-Beregovo-Budapest-Zagreb-Rijeka-Banjole)
Kyiv – 1810 km, Hungary-Slovenia
(Kyiv-Lviv-Mukacheve-Beregovo-Budapest-Maribor-Ljubljana-Koper-Banyole)
Banjole photo gallery: sea, beaches, nature
Shops
In the center of Bonjole there is a grocery minimarket Discount, a sub-brand of the Konzum chain. It presents products of medium and long shelf life, as well as essential goods. Next to the minimarket there is a mini-bakery (did not work at the beginning of summer 2018) and a vegetable shop. The essentials are there, but if you need a better choice, then the nearest supermarkets Lidl, Plodine are located in Medulin. Good range of products in my opinion in Plodine.
Bajole, shop map
The nearest Konzum, pharmacy and exchange office are located 1 km from the center of the village at the roundabout when turning off the highway in Banjole. The campsites have their own minimarkets, which is important for tourists vacationing there, as these complexes are far from civilization.
Banjole beaches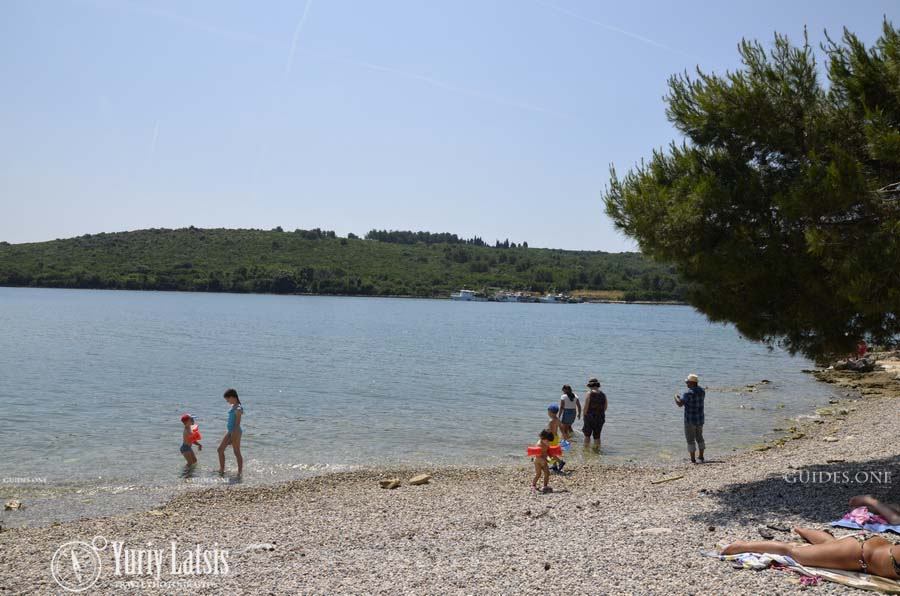 All beaches are within walking distance. Since there are plenty of cozy places here, it is more convenient to explore them on a bicycle if they are 1-2 km away from the center. The coastline is winding, passing from one bay to another. The sea goes around Banjole from almost three sides, so even in windy weather or a storm, you can find a place by the sea with calm water. When, for example, in the Gulf of Paltana (uvala Paltana) it is stormy, then from the opposite part of the peninsula in the bay of Solino (uvala Solino) it is quiet. The beaches in this area are pebbly and stone.