Few people know the fascinating story of the creation of the Brijuni Islands. And it is really interesting, from the decision to purchase the Brioni archipelago to the fight against malaria with the participation of the famous German doctor Robert Koch. The Brioni Islands are a group of 14 small islands and reefs located off the coast of Istria in the Adriatic Sea near the town of Pula, Croatia. Many people have heard of them as a National Park in Croatia (NP Brijuni) and a popular expensive resort, but its history deserves to be told.
History of the Brijuni Islands
The Brijuni archipelago was first inhabited by the Illyrians in the 6th century BC. Over the years, the croatian islands were ruled by various empires and states, including the Romans, Byzantines, Venetians and Austro-Hungarians. In the early 20th century, the Brijuni Islands belonged to the Habsburg family, who used the islands as hunting grounds. Over the centuries, nature took ovbrijuni islands national parker the historical layers and the island became overgrown with shrubs, turning in places into an impenetrable jungle. In 1893, a wealthy Austrian industrialist named Paul Kupelwieser visited the area and fell in love with its natural beauty. He decided to purchase the Brioni archipelago and turn it into a luxury resort with hotels, villas, walking areas, swimming pools and a Brioni golf course. Kupelwieser also planned to bring exotic plants and animals to the islands to create a unique and unforgettable experience for his guests. However, the industrialist soon discovered that the Brioni Islands were afflicted with malaria and even contracted malaria himself. Malaria is caused by a parasite that is transmitted through the bites of infected mosquitoes. The disease can cause fever, chills and flu-like symptoms and can be fatal if left untreated. Kupelwieser knew that if he wanted to turn Croatia's chosen islands into a successful resort, he would have to eradicate malaria. He enlisted the help of the famous German physician Robert Koch, who had won the Nobel Prize in Medicine in 1905 for his work on tuberculosis. Koch was an expert in infectious diseases and had developed a method of identifying the organisms that cause them. Koch agreed to help Kupelwieser solve the malaria problem. He and his team of scientists did extensive research on the mosquitoes that carried the disease and the best ways to control their population. They also worked with local doctors to diagnose and treat people who contracted malaria. Thanks to Koch's efforts, the incidence of malaria in the Brioni Islands has dropped significantly. And the bushes that acted as a refuge for mosquitoes were cleared. Kupelwieser was able to realise his plans for a luxury resort, and the islands became a popular holiday destination for celebrities and royalty from around the world.
In Yugoslav times, it was the summer government residence of President Josip Broz Tito. The island hosted meetings of NATO and EU leaders, international summits and cultural events. The island was visited by such personalities as Winston Churchill, Elizabeth Taylor and Sophia Loren. Nowadays, the former state dacha houses a museum of effigies and a photo exhibition dedicated to Josip Broz Tito. The archipelago became a national parks in 1983.
Safari Park NP Brijuni
The Brijuni islands national park preserves many rare and unique species of plants and animals. Home to many species of birds, the islands are a paradise for wildlife watchers.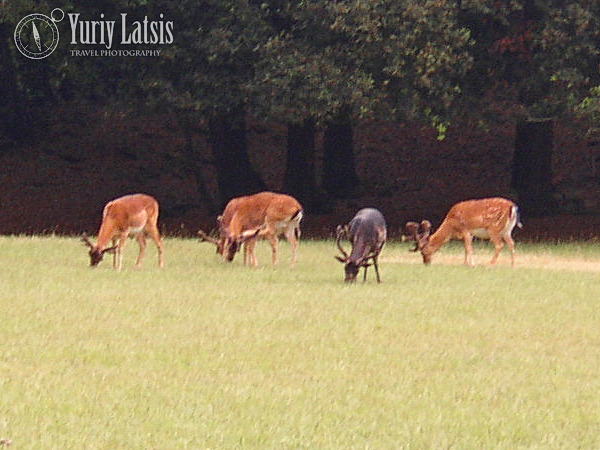 You can see a variety of birds including sea eagles, terns and many others. Wild goats and deer, zebras, mouflon and mouflon live here. The Brijuni safari park is home to ostriches, peacocks and albinos. Exotic animals such as llamas, South American camels, African steppe and mountain zebras and the sacred Indian cow roam quietly here. Indian Prime Minister Indira Gandhi once gave several elephants to Marshal Josip Tito.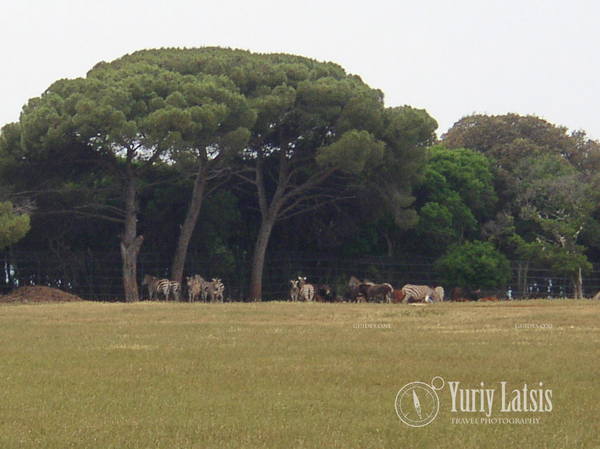 Inside the safari park there is also a separate Ethno Park, where local animals – Istrin sheep, donkeys, goats – live. No separate ticket or additional payment is required to visit the safari park.
Brijuni – find the dinosaur
Excursions in the dinosaurs footprints
On Veliki Brijun and the islands of Vanga, Galia and Vrsar, dinosaur footprints have been discovered in four different locations. If you enter Veli Brijun harbour or go down from a ship, you can see a three-toed imprint on a limestone block, which was probably left by a large predator from the theropod family. The first dinosaur footprints on Brijuni were discovered in 1925, but it wasn't until the 1990s that a scientific study was conducted. Not many dinosaur footsteps are known. Therefore, they are valuable to science as they help to better understand the life of these reptiles, their way of travelling and eating. Tracks can be used to determine whether they were bipedal or quadrupedal, whether they relied on the whole foot or only the toes, whether the animals ran or moved slowly, and whether they were alone or in a group. In the Brijuni Archipelago, dinosaurs have legacies on Great Brion itself and on the islands of Vanga, Galia and Vrsar. Footprints on Veliki Brijun, as well as on Cape Ploče and Cape Vrbanj are available for visitors.
The ticket price for the April 2022 event called "Dinosaur Day" was 100 kuna (~13 euros) for adults and 70 kuna (~9 euros) for children from 7 to 18 years old. The date of the holiday is floating – you have to keep an eye on the local news.
Byzantine Castrum, ruins of Roman culture and other antiquities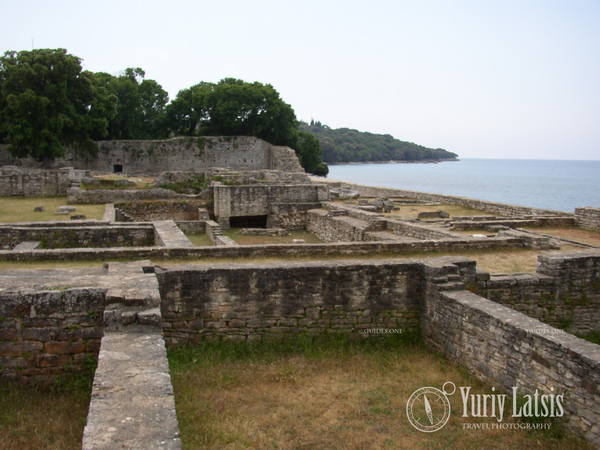 These sites are also known for their archaeological finds dating from the 1st to the 4th century AD. Heritage of the Roman Empire, Byzantium. On the island of Veli Brijun there are the remains of a Roman villa, a Roman palace of the 1st- 2nd century, a Roman prison, the Temple of Venus, the Byzantine Castrum (the foundations of a permanent military camp have been preserved), the Basilica of St Mary of the 5th and 6th centuries, the Church of St Herman of the 15th century, and on the island of Mali Brijun you can see the ruins of a temple dedicated to the god Asclepius. Most of the other islands of the archipelago are uninhabited and closed to tourists.
An ancient olive tree on Brioni
There is an olive tree on the island that is about 1600 years old. Its age was determined by carbon dating from a fragment of wood from the root. A big hurricane in the 1970s damaged it, splitting the trunk in two. The trunk was then sanitised using concrete, a method that was very popular in horticulture at the time. The olive tree has an impressive crown area of 22 x 8 metres and its height reaches 6 metres. Despite its mature age, the olive tree continues to bear fruit. Its fruit is used to produce oil. It is harvested every October and on average produces about 30kg of fruit. This yields approximately 4.1 litres of Extra Virgin olive oil.
Brijuni excursions
The most popular with tourists is a one-day excursion around the island. Other options – two days or more with hotel accommodation, are less popular. The reasons are several. Firstly, people come to Croatia for a short period of time. A week, two weeks. And to allocate several days for one excursion is considered inexpedient. Secondly, the cost. Accommodation on Brioni is not cheap, it is a reserve, where there is no development of apartments and hotel competition. The hotel buildings are left over from past eras, although they have undergone restoration inside. But judging by the reviews, they deserve 3 points out of 5. By the way, the government tried to rent out the islands or attract investors, but they failed. For tourists on the island is offered an organised trip on a mini-train with a guide. The duration of the fascinating excursion is 4 hours. This includes a tour of the Safari Park, an introduction to the museum, a visit to the Brion Mediterranean garden, a tour of an ancient olive tree, and a return by boat back to Fajana. You can walk the island on your own or hire a bicycle. By the way, cycling is the best option when you can manage to see the whole island on your own in one day. By the word "on your own" does not mean free, it means that you will have to buy a Brijuni Pocket Guide ticket and download an app with the same name on your mobile phone.
Everything within the Brijuni National Park: hotels, tours and all logistics is a single government business. There's no option to just buy a boat ticket, disembark and walk around the reserve. Tourists don't buy a boat ticket, they buy a tour (excursion). For those who wish to stay on the island for a few days, the tour is included in the accommodation and they get discounts on many other services.
Prices for excursions in Brijuni National Park 2023 / 2024
| | | | |
| --- | --- | --- | --- |
| Category | 1.03-31.05 | 01.06-30.09 | 01.10-31.12 |
| Individual | | | |
| Adults | 26,54€ | 40€ | 30€ |
| Children from 7 to 18 years | 13,27€ | 15€ | 14€ |
For groups a discount of about 10 per cent. Ticket for the guide app 8€.
If you are travelling with a dog, you need a ticket for him too – 15€. There is no division in the price list for age (like people), dog breeds, weight, size, character :)' What to do with pocket portable versions of Chihuahua, the price list does not describe. Other animals are not listed on the price list. But that doesn't mean you'll get a free boat ride in the company of a handheld cheetah, a pet tiger and a python around your neck, in the form of a scarf with your favourite parrot perched on it.
Bike hire is 6€ (01.10-31.05) and € (01.06-30.09) per hour. Prices after 5pm are half the price.
Electric scooter hire is 20€ per hour. If you want to bring your own personal scooter to the island, it costs 40€
Hire an electric car for 2 people, 28€ (01.10-31.05) and 40€ (01.06-30.09) per hour.
The tariffs on the national park's website are in the format of a downloadable PDF file. Each service is in a separate file in its own menu item on the website. Therefore, to familiarise yourself with them, you will have to run through different pages of the site, download several PDF files and view the prices. I have provided a simplified, easy-to-read text version, which will give you an idea of the approximate costs.
Old Golf Course Brioni
The year 2022 marks the 100th anniversary of the opening of the golf club on the island. It has been remodelled many times. It now has 18 holes and is up to 6 kilometres long. The course is suitable for players of different qualifications, from beginners to professionals.
The cost is Brijuni golf course 50€ per day, 35€ for hotel guests. For teenagers under 18 years of age – 30€ if they are hotel guests – 30€.
Golf school, price: a lesson with 1 person for 40 minutes costs 55€ a lesson with two students for 50 minutes costs 68€.
Team games – prices are half the price of individual games.
Tickets for the Old Golf Course Brioni are purchased at the tourist office in Fazana. This is next to the harbour where boats leave for the island.
Hotels Brijuni Islands
I'll warn you right away, the choice of accommodation is small. A few hotels and villas with apartments.
Brijuni Hotel Istra aka Hotel Neptun
The same hotel in Booking system appears under different names: Neptun and Istra. And it is not indicated, as it is customary, which name is old and which is new. Their photo galleries are identical, prices too. It is not known what such a marketing ploy is connected with. One of the tourists said that in 2017, when he stayed here, there was a division by class: the hotel Istra had 3-star rooms, in Neptun – 2-star, and in Karmen – 1-star. And there was only one reception desk, located in Neptun. According to another version, Neptun is the old name.
Now (2023 – 2024), each of the hotels has added a star.
The Istra \ Neptun resort is located in the Brijuni National Park, next to the ferry terminal. The hotel has 41 double rooms on three floors. It features air-conditioned rooms with LCD satellite TVs and free Wi-Fi. The hotel has a restaurant, complimentary breakfast. Prices at the la-carte restaurant are approximately 30% higher from continental prices. A bar is available. Nearby restaurants include Veritas Food & Wine, Agrippina Street Food and Backyard Restaurant. Rating among international audience according to reviews on Tripadvisor – 2.5 (out of 5), among Russian-speaking audience – 3.5. You can still find Hotel Jurina on Google maps, but it has long been defunct. The old designation is misleading. The Jurina building is now part of the Istra \ Neptun complex.
Brijuni Rooms Karmen
Rooms Karmen retain their original appearance and much of the original interior design with park or sea views. It offers free breakfast, free shuttle service to the ferry station and daily room cleaning. Rating on Tripadvisor 3.5 (out of 5), and is listed as a two-star hotel, although booking systems may list 3 stars. Expedia rating 7.4 (out of 10), noted as "good".
Villa Lovokra Brijuni
A pleasant villa on the island of Brijuni (Great Brijuni) that offers accommodation in stylish rooms with beautiful sea views. It can accommodate up to 6 guests. The villa is located on the sea front and has 3 bedrooms, 3 bathrooms, private beach, sauna, jacuzzi and barbecue. The villa is surrounded by greenery and is located close to the beach.
Villa Dubravka Brijuni
Apartment Dubravka will accommodate 4 people. On the ground floor dining room, living room, jacuzzi with shower, toilet. On the first floor there are two bedrooms, each with a bathroom. Next to the villa there is a swimming pool and the sea.
Villa Primorka Brijuni
Apartment Primorka will accommodate up to 8 people. 4 double bedrooms. 2 bathrooms. Living room. Kitchen, large dining room with access to the terrace and sea view.
I note that the reviews of tourists about living in villas – only positive, unlike hotels, where there are different.
Brijuni Beaches
In the bay of Saluga is a sandy beach, surrounded by century-old pine trees, which create a pleasant shade. The crystal clear and calm sea makes this beach ideal for family holidays, If you get hungry, there is a Mediterranean restaurant "Saluga" along the beach, where you can enjoy a beautiful view of the south-western part of Istria. You can rent sun loungers \ beach chairs (regular – 10€ per day, double shell – 28€), diving equipment, a swim board, table tennis table. On the beach there is a family zone with a children's playground and a relaxation area with massage rooms.
In Vranjak Bay, near Safari Park, there is a stone beach with coarse pebbles and its landscaped part next to the Sony & Lanka Bar. The bar is named in honour of the elephants once presented by Indian Prime Minister Indira Gandhi to Yugoslavian President Josip Tito.
Not far from Sony & Lanka beach, the cosy Brijun beach is tucked away in the neighbouring Slana Bay. It is located at the back behind a 100-year-old golf course with the name Old Golf Course Brioni. It is not to be confused with Brioni beach, which is located in Pula next to the hotel of the same name.
There are many other bays on the island where you can swim. Snorkelling in these places is interesting, thanks to the reefs there is a rich underwater world.
How not to fall into tourist traps
If you search for hotels in Booking using the filter "Brijuni", you will be shown options that, among others, are not located on the island at all. In addition, some hotels have the word Brijuni in their names, which will probably mislead you. For example, the Brijuni Heritage Hotel is located in Fazana, where the boat to the island leaves from. Grand Hotel Brioni Pula, A Radisson Collection Hotel is in Pula, Croatia. Apartament Maya is in the suburb of Pula, in the Verudela area closer to the village of Pjescana Uvala (Pescana Uvala), although the address in the Booking filter shows Brioni. Therefore, if you will conduct an independent search – be sure to check the result on the map Booking, where the hotel is really located. With the word Dubravka, Neptun or Istra there can be many apartments and hotels in Croatia. You should only be interested in those that are located on Brijuni. Camping Brijuni, as well as the beach of Brioni are located in Pula. There are no campsites on the archipelago. Don't let the similarity of the names mislead you.
Brijuni National Park – how to get there
From any city, Pula, Rovinj, Trieste or any other, you need to drive to the village of Fazana. It is opposite the island of Veliki Brijun and from there it takes 15 minutes by boat. For example, Italians often search for bus options using the phrases "Trieste Brioni bus" or "Trieste Pola", combined with "cheaper" and the hope that there is a direct FlexiBus flight. But there isn't. If you ask the question more precisely – Trieste to Fazana (Trieste Fazana bus), you can find a route from Trieste with a connection in Rovinj on a local flight. At the same time, tourists from the UK are more interested in the ferry connection Croatia – Italy, how long is the ferry journey. Ukrainians are usually interested in the reverse option, the ferry from Croatia to Venice. And what is the price, to go for 1 day, to see Venice. Reporting:
Ferry Venice – Pula: 3 hours and 45 minutes. Average cost 82€ one way.
Ferry Trieste – Rovinj: 1 hour 40 minutes.
Venice to Rovinj ferry: 3 hours carrier Kompas, 4 hours VeneziaLines
Features and restrictions on Brioni Island
There are no shops on the island except for a souvenir shop. There is no ATM either.
You can only pay for bike or electric car hire by card.
To rent a car or scooter you need a driving licence and passport.
It is possible to come to Brijuni NP with your own bicycle or scooter, but you must notify the reception in advance and pay 40€ extra (for scooter, and for bicycle – check) for transport by boat.
There is a secure paid car park for hotel guests at Ulica Boraca 9, Fazana. The cost is 12€ per day. In high season – June, July, August, September – 15€. Pay at the reception of Neptun hotel. Parking must be left by 12:00 on the day of departure, or pay extra.
There are military bases on the territory of the Brioni archipelago. Tourists are not allowed to enter them.
You can leave the island by any boat trip. You don't need to make a reservation. And you don't even have to pay extra for the right to leave. That's an unprecedented generosity. Don't forget to take advantage.
Why is Gas Island off limits to tourists? – It's an uninhabited tiny island on which a defence bunker was built at the end of the vulgar century. Like many active military territories, such sites are closed to tourists.